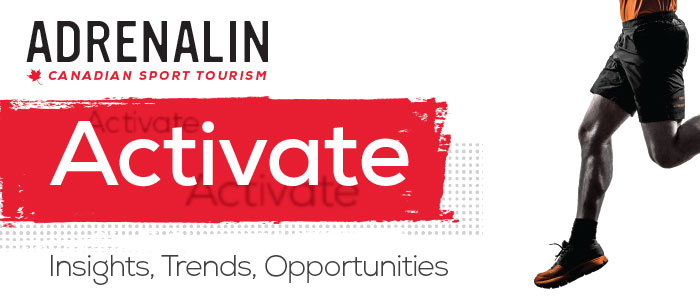 More than 50 cities, regions and countries are working together to create an international association of event hosts. As a member of the formation committee, Rick Traer, CEO, Canadian Sport Tourism Alliance (CSTA), offers insights into Canada's role in this new organization.

WHY IS THE ASSOCIATION BEING CREATED AT
THIS TIME?
You can't turn around these days without being aware of allegations of corruption as it relates to the bidding processes for awarding international sport events [i.e. Tokyo's bid for the 2020 Olympics, and the awarding of the FIFA World Cup to Russia and Qatar]. The impetus for an international association came about as far back as 2003, but over the last 12 to 14 months we've mapped out the framework for what such an organization might look like.

WHAT ARE THE ASSOCIATION'S GOALS?
It will be a great platform for sharing best practices and learning. The landscape today is quite a bit different than it was even 10 years ago. It will also provide an opportunity, as a collective, to address some the issues related to creating a fair and equitable level playing field regarding bidding and hosting practices internationally. As for advocacy, currently there is no platform or entity in place that can speak on behalf of the hosting landscape in terms of expressing and advocating that those basic principles are in place around the world.

WHAT DOES THIS MEAN FOR CANADA AND THE
CSTA MEMBERSHIP?
We have a stellar reputation as a host for international sport events, both single sport and multi-sport, and we are considered to be a very fair country as it relates to the bidding process. We think this is a strong development in the hosting landscape that will benefit our members because it's a great opportunity to learn from others, share best practices and to advocate for fair and equitable hosting processes and guidelines. We hope to launch the organization in early 2017.


Collectible

Para Flip-Flops

With Canada Day just around the corner, the Rio 2016 Paralympic Games fast approaching and National Flip-Flop Day coming up this Friday (June 17), why not slip on a pair of Team Canada's Para Flip-Flops?

These patriotic, sporty Para Flip-Flops (now available for $15 at Hudson's Bay) are the first-ever retail fundraising item in support of Canadian Paralympic athletes. For each pair sold, 30 per cent of the sale goes to support Paralympic athletes and programs for aspiring athletes.
Save the Date




When: July 6, 2016
Where: CC Lounge & Whisky Bar
Agenda: SMCC's 2nd annual social event – a fun night, in an informal setting.



2016 PETRO-CANADA
SPORT LEADERSHIP SPORTIF CONFERENCE

When: November 3 – 5, 2016
Where: Sheraton Vancouver Airport Hotel and the Richmond Oval
Agenda: Challenging Canada's sport administrators, executives, coaches and researchers to embrace our diversity as an opportunity to create a more powerful sport system in Canada.



9TH ANNUAL PRIME TIME SPORTS MANAGEMENT CONFERENCE

When: November 14 – 15, 2016
Where: Westin Harbour Castle, Toronto
Agenda: Leading edge strategies for managing and marketing the business
of sport.

More industry events at adrenalinmag.ca.




Inside Track


Sport returns to Fort McMurray


Just as many Fort McMurray area residents are returning to their homes following Alberta's devastating wildfires, MacDonald Island Park is reopening its sports and leisure facilities including the Miskanaw Golf Club, Syncrude Aquatic Centre and Shell Place. The Park's facilities were relatively untouched by the wildfires and were set to reopen mid-June, according to reports. The Monarchs football team and the Giants baseball team are expected to play games at the park this summer, and the organizers of the 2016 Baseball Canada Cup say the event will take place in Fort McMurray as scheduled, August 3-8.

Four contenders for 2021 Canada
Summer Games


It will be Ontario's turn to host the Canada Summer Games in 2021, and four communities have decided to throw their hats into the ring. The Canada Games Council has received letters of Intent to Bid from the City of Ottawa, the City of Greater Sudbury, the Niagara Region, and a joint bid from Kitchener, Waterloo, Cambridge and Guelph. The winning host bid will be announced in March or April of 2017.

Ontario invests $16M+ in athletes and sport events


The province of Ontario is putting $16.76 million towards helping athletes reach the highest levels of international competition and supporting the ongoing operation of key sporting venues. More than 1,250 athletes will receive direct funding, and sport organizations will receive funds to enhance coaching, athlete training and competitive opportunities. The Toronto 2015 Sport Legacy Fund will receive $7 million toward the ongoing operation and maintenance of the key legacy facilities used during last year's Games.

Look Who's Hosting: Saskatoon will host its first multi-sport, co-ed Masters Sports Festival July 15-17, 2016; Thunder Bay, Ont., will host the 40th Can-Am Police-Fire Games, July 16-24, 2016; Mont-Sainte-Anne resort in Quebec will host the UCI Mountain Bike World Cup, August 5-7, 2016; Toronto will host the annual Grey Cup on November 27, 2016; Vancouver will host two regular-season NCAA Division I basketball tournaments in November, 2017.

Share your event news, case studies or story ideas with the editor at adrenalinmag.ca.
| | |
| --- | --- |
| Job code | Opportunities, training & education |
Executive Director – NSCA
The Nova Scotia Curling Association (NSCA) is looking to fill the position of executive director. The successful candidate will serve as CEO of the organization and, in partnership with the Board, will be responsible for achieving the strategic goals of the NSCA.
Application deadline: June 20, 2016
Chef de Mission – Commonwealth Games 2018
Commonwealth Games Canada invites applications for the position of Chef de Mission of the Commonwealth Games Team in Gold Coast, Australia, April 4 – 15, 2018. The high profile role is quite broad with political, promotional and operational functions.
Application deadline: July 4, 2016
Recent Appointments: The International Ringette Federation elected Jane Casson as vice-president and Laura Knowles as technical director… Commonwealth Games Canada has appointed David Bedford as executive director, Team Canada 2018, and David King as manager, international programs… the Ontario Soccer Association has re-elected Ron Smale as president and Michael Saniga was elected as treasurer.

| | |
| --- | --- |
| | |