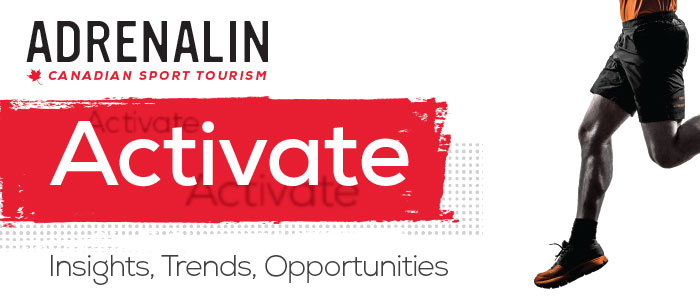 2017 is shaping up to be a big year—from the Canada Summer Games' 50th anniversary, to marquee sport events anchoring Canada's 150th birthday. ADRENALIN recently invited a group of Ottawa-based sports industry leaders to discuss some of the milestones, trends, challenges and opportunities marking the year ahead.

Rick Traer, CEO, Canadian Sport Tourism Alliance: A trend for 2017 and moving forward is that Canada will have a competitive advantage in attracting international sport organizations and federations who like the attractiveness of a North American championship. This is due to the fact that events tend to run well here, and because of television viewership, sponsorship opportunities and corporate support. canadiansporttourism.com

Jackie Buckingham, CEO, Synchro Canada: FINA (Fédération internationale de natation) has introduced a new World Series for synchronized swimming. We are quite excited because we get to earn points in a true international cup series. We will host one of the first World Series events in conjunction with our Canadian Open Championships in Toronto [May 2-7, 2017], but for 2018 we hope to be able to use our regular bid process to host a stand-alone event. www.synchro.ca

Darrell Cox, manager, major events, Ottawa Tourism: The Ottawa 2017 office is sort of basking in the glow of [the many sport events] happening in Ottawa this year, but we're also looking ahead. The challenge is going to be meeting expectations moving forward in terms of how 2017 raised our profile as a major event-hosting destination. I think the visibility will certainly help us and we're going to be building on that excitement and that momentum through 2018 and onwards. www.ottawa2017.ca

Dave Patterson, president & CEO, Canada Games Council: The Canada Summer Games, hosted by Winnipeg, will be the Games' 50th anniversary and it's a Canada 150 Signature event, which ties into a much broader narrative across the country. I think there's lots of opportunity to build some legacy in terms of how Canadians talk about the Canada Games and how we think of it, not just as a sport development vehicle—which it is, and will continue to be—but also as a spectator property, a sponsor property and as a proposition for tourism.
www.canadagames.ca

THERE'S MORE! Be sure to check ADRENALIN's spring issue, published mid-March, for the full editorial roundtable discussion.

Notable

Lord Stanley's Gift Monument

Canada is marking the 125th anniversary of the Stanley Cup with a public work of art at the corner of Sparks and Elgin Streets in Ottawa. The Canadian team of Covit / Nguyen / NORR (Montréal) won a national competition to design the monument. The elegant 3.45-metre high chalice is set on a white paved "hockey rink" with imbedded stainless steel lines evoking skate marks. A black granite bench, shaped to resemble a hockey puck, will complete the monument, which will be unveiled this December.
Image: Covit / Nguyen / NORR

Save the Date




When: March 20 – 22, 2017
Where: Westin Hotel, Ottawa

Canada's largest annual gathering of sport tourism professionals and event management firms; hosted by the Canadian Sport Tourism Alliance. On Tuesday, March 21, ADRENALIN editor, Angela Kryhul, will host a panel discussion on Event Technology & Social Media.


When: March 8 – 10, 2017
Where: Sheraton Hotel Newfoundland, St. John's, Nfld.

Bringing together political, community, sport and event leaders with the goal of increasing collaboration with event hosting in Atlantic Canada.


2017 Sponsorship Marketing Awards

When: April 19, 2017
Where: Andrew Richard Designs, 571 Adelaide St. E., Toronto

Recognizing companies that have maximized their investments in sponsorship marketing.

Hotel Association of Canada Conference

When: February 15 – 16, 2017
Where: Sheraton Toronto Airport Hotel & Conference Centre

Sessions not to be missed: HAC's Travel Intentions Survey and Flexing Your Fitness Centre.

More industry events at adrenalinmag.ca.




Inside Track

Five Canadian venues among Top 100 Stadium Experiences


Sports venues in Winnipeg, Halifax, Toronto and Vancouver are among scout.com's Top 100 Stadium Experiences for 2016. The atmosphere at Winnipeg's MTS Centre is noted as "one of the best in the league," while Halifax's Scotiabank Centre offers "excellent options for the game day experience," and Toronto's Air Canada Centre made the list for its "elite league experience." Vancouver has two venues on the list: Scotiabank Field at Nat Bailey Stadium where "fun is the goal"; and BC Place, noted for its "nice mix of fans."

COC partners with SAS for data analytics


The Canadian Olympic Committee has signed an eight-year analytics partnership with SAS Canada. The data generated will enable sport leaders and coaches to better allocate finite resources to yield the best results possible, identify the most promising athletes and pinpoint the key factors that will enhance training programs.

Facebook live streaming gains momentum


While most social media channels saw slight declines in live viewership between June and November 2016, viewership on Facebook reached 17 per cent, a gain of three points, according to research by the UBS Evidence Lab. YouTube appears to have lost some ground: 16 per cent of survey respondents said in November that they watched live videos on YouTube, compared to 21 per cent in June. Snapchat held on as the third most popular channel for live video consumption, but its viewership dropped by two percentage points to 12 per cent, according to an eMarketer article.

Look Who's Hosting: St. Catharines, Ont., will host the 2017 Scotties Tournament of Hearts February 18-26, 2017... Quebec City will host the International Ski Federation World Cup Finals March 17-19, 2017... Wolfville, N.S., will host the Football Canada Cup July 8-14, 2017... Belleville, Ont., is hosting three OFSAA competitions in 2017: Girls AA Volleyball March 6-8; Gymnastics April 10-11; and Track & Field Championships June 1-3, 2017.

The Canada Games Council will announce the 2021 Canada Summer Games host community on March 31, 2017 at 2 pm EST.

Share your event news, case studies or story ideas with the editor at adrenalinmag.ca.




| | |
| --- | --- |
| Job code | Opportunities, training & education |
Director of Communications, Tennis Canada
Tennis Canada is looking for a director of communications to define and oversee the implementation of its overall communications strategy. The role includes internal communications, and external communications with key stakeholders, media relations and public relations.
Technical Director, Quebec Lacrosse Federation
The Quebec Lacrosse Federation seeks a technical director. Responsibilities include supporting administrators and volunteers in the realization of the 2014-2018 Action Plan, and ensuring sound management and good governance of the Federation.
Application deadline: February 17, 2017
Recent Appointments: Terry Dillon is the new CEO of Rowing Canada Aviron... Michael Downey is returning to Tennis Canada as CEO, a position he held from 2004 to 2013... Laurence Bishop has been appointed executive director of the Canadian Ball Hockey Association... five-time Paralympian, Todd Nicholson, is Team Canada's Chef de Mission for the PyeongChang 2018 Paralympic Games.