Parks4All: Interior Secretary Jewell announces "course correction"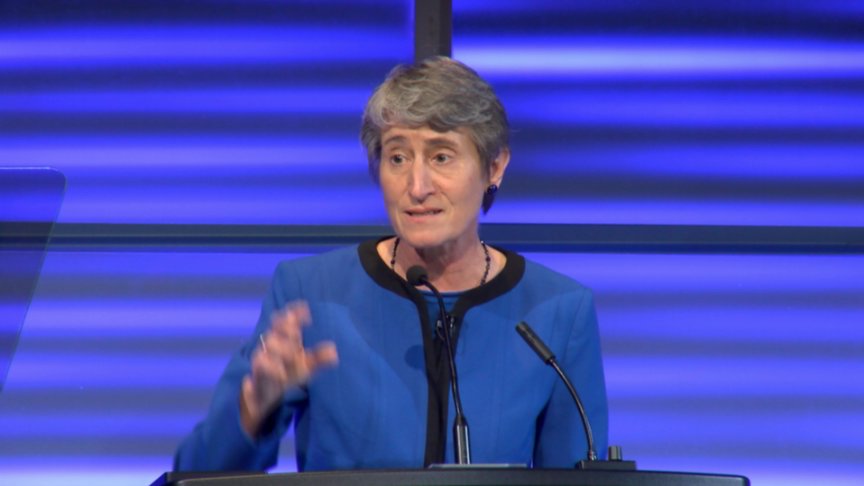 During National Park Week, U.S. Secretary of the Interior Sally Jewell shared her vision for the next 100 years of conservation in America. Jewell called for a "course correction" for conservation, including greater investments in national parks and public lands, and inspiring people "from all ages and all backgrounds and all walks of life to love the great outdoors and our rich history and culture." The Secretary also announced plans for a new study to quantify outdoor recreation's impact on our economy, and called on Congress to fully fund the Land and Water Conservation Fund (LWCF).

Jewell recently announced nearly $95 million in investments from LWCF to support local conservation and recreation projects in all 50 states, U.S. territories, and the District of Columbia.
---
Every Kid in a Park & Making Parks Accessible
OAK members are continuing to support Every Kid in a Park across the country! Below, BuddyBison students from Cesar Chavez School in Maryland received Every Kid in a Park passes (photo courtesy of National Park Trust).


Wilderness Inquiry's Canoemobile is also helping to celebrate the NPS Centennial and get Every Kid in a Park by making National Parks more accessible! Canoemobile is connecting people with disabilities to the outdoors by getting them into canoes on America's great rivers and lakes.
---
OAK Calls on Congress to Fund Programs to Get Kids Outdoors
OAK submitted written testimony to the Senate Committee on Appropriations, Subcommittee on Interior, Environment, and Related Agencies for fiscal year 2017. Thank you to OAK members who signed on to support critical funding for kids and nature and to those who participated in OAK's advocacy day on Capitol Hill!
---
Children & Nature Network International Conference
The
Children & Nature Network's 2016 International Conference is coming up May 24 - 27 in St Paul, MN. Join leaders from around the world to learn, connect and build the future of the children and nature movement. Register now to participate.
---
ECHO Across America Toolkit

Every Child Healthy Outdoors (ECHO) Across America is a tool developed by OAK to encourage collaboration on the ground to advance strategic plans to get kids outdoors. AmeriCorps VISTA fellow Larisa Crippen-Chavez piloted the ECHO toolkit in Albuquerque, and presented a webinar to share her lessons from a year of toolkit implementation. Thanks to TYO - Transforming Youth Outdoors for hosting the webinar!
---
Updates to OAK's Strategic & Organizational Overview
Earlier this year, OAK's steering committee made some significant organizational and policy updates. The committee updated OAK's mission statement, adopted a Diversity, Equity and Inclusion statement, and made some additions to OAK's Environmental Stewardship Pillar policy outcomes to include:

1) Protect and preserve natural areas in which young people can learn and play, particularly in areas close to population centers where safe and accessible outdoor areas may be limited; and

2) Raise awareness of the adverse effect that global climate change will have on the ability of young people to experience nature.

View OAK's complete policy platform.
---
Safe Routes to School National Partnership issued 2016 state report cards to provide a snapshot of how supportive states are of walking, bicycling, and physical activity for children and adults.