Mobile Food Pantry at the EWRRC
The Mobile Food Pantry serves Foothills residents with a variety of food items twice each month. This would not be available to our community without volunteers like you. To keep this program sustainable, please consider volunteering during distribution hours.
Food Lifeline, working in collaboration with the Foothills Food Bank and the Opportunity Council, have changed the schedule of the Mobile Food Pantry distribution at the East Whatcom Regional Resource Center!
JULY DISTRIBUTIONS:
Saturday, July 6th (doors at 11:30 AM) & Friday, July 19th (doors at 10 AM)
A NEW SCHEDULE BEGAN IN APRIL
we have transitioned to distributions on the FIRST SATURDAYS and THIRD FRIDAYS of each month, beginning Saturday, April 9th!
To volunteer call (360) 599-3944 or

E-Mail Jessica Bee!
Would you like to help out in school gardens this summer? Water, weed, harvest, plant - this will help make sure our kids at Acme, Harmony, and Kendall come back to vibrant gardens in the fall!
Find more

information here.
Twin Sisters Farmers Market is Open!

Support your local farmers market this weekend for the opening day of the season. Twin Sisters will be located at the IGA Parking Lot in Nugents Corner and the North Fork Library in Kendall this Saturday, June 1st! Find them on Facebook to learn more.

JULY COMMUNITY MEAL
All Community meals are hosted by agencies, community groups, or neighbors. To keep this program running we need your help! Interested in hosting a meal or volunteering?

Contact Jessica

at the EWRRC.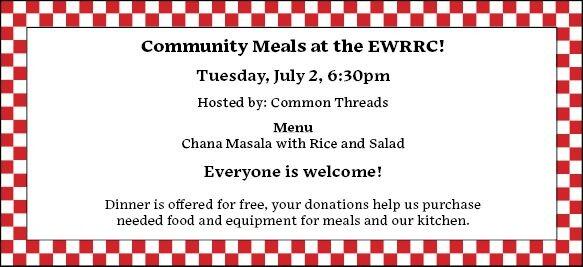 Kids Days of Summer at the EWRRC!

This is our 6th year of partnering with the Mt. Baker School District and the USDA to offer Kids Summer Activities at the East Whatcom Regional Resource Center with breakfast and lunch served. This is at no cost to families but we do accept donations for Foothills Food Bank. Extra special this year: we will have Common Threads Farm teaching essential cooking skills classes with youth encouraged to create their own recipes for the first three weeks! We are very excited to have such an innovative and fun program this year!

Our program runs Monday-Thursday 9 AM-12:30 PM starting June 17th through August 8th with no service on July 4th. Children ages 1-18 are welcome to attend, drop-off after enrollment and sign in is okay for children 5 and up, those under 5 must attend with an adult.

We are seeking teen and adult volunteers for the program especially July 8th through August 8th. Call us at 360-599-3944 to get more information or get started!

Our theme for 2019 is Well Being! We will focus on nourishing activities from gardening, to cooking, to confidence building and talent sharing. Hope you and your youth can join us. We welcome pre-registration! Please call 360-599-3944 Monday through Friday between 8:30-4:30 PM to learn more. Youth are welcome to attend any or all of the program. We are located at 8251 Kendall Rd Maple Falls, WA.

Whatcom County Library Master Gardener

Programs

Your Fall Gardening Starts Now
Vegetables for fall must be started early before lower light levels and cooler temperatures slow their growth. Learn from Whatcom Master Gardeners in this free session about cool weather crops, perennial vegetables, and protective covers and how to prepare your garden for winter. Program is sponsored by an Ellen A'Key King County Master Gardener Foundation Grant.
Deming: Saturday, July 13th 11:00-12:30 PM
North Fork: Saturday, July 20th 11:00-12:30 PM