| | | | | |
| --- | --- | --- | --- | --- |
| | | | UPDATE | |
From the Senior Pastor

Dear Beloveds,

This week we began our ArtSmart ministry, offering 3 mornings per week virtual and one Tuesday in-person, outdoor experience at Luther Place.

This week has been very full and we are blessed to serve 33 children and their families!

One of our activities outside was to make a tour of the gardens in the Sacred Commons.

Each of the children were given paint color strips of yellow, orange, red, green, purple, pink and blue. We looked for the colors at each of the gardens, and discovered over and over the variety on display!

And we were we also on the lookout for insects — bumblebees, butterflies, ants and beetles showed up!

Our tour took us from the rain garden, to the sunflower garden, to the 14th Street garden, to the woodland garden, to the dry (or xerophytic) garden that surrounds the Memorial stone and finally to the the new pollinator garden in proximity of the Magnolia tree. The campers will plant a portion of the pollinator garden this month.

When we sat down in the shade and evaluated our garden walk experience, we talked about colors and flowers, and I invited the children to share their reactions. One of the children volunteered — "The flowers are Amazing!".

I offer deep gratitude for all of the gardeners who month by month offer their time and care to Luther Place's outdoor space — the Sacred Commons bear witness to the beauty of God's creation!

What does our Magnolia Tree teach us today?


Our Magnolia tree teaches us to notice the gifts we experience through trees and other living things.

The Magnolia tree issues the invitation to consider taking your time and slowly touring spaces that are a home to flowers, trees and insects.

And the Magnolia tree asks questions: What do you learn from the wide range of color and shapes of living things? What do you find "amazing?" How do you experience God in creation?

May connections with creation nourish your faith…

in Christ,
Pastor Karen Brau


We had a joyous time together outside on Saturday Night at the annual ArtSmart Benefit Concert. If you missed it, you can watch the livestreamed recording here
Men's Fellowship, Saturday, July 17

The next Men's Fellowship will be in-person at Gary Maring's house in Bethesda at 9:30am on July 17th. Our long term LP friend from Rwanda Pastor John Rutsindintwarane (and now LP member with his wife Robin as of last Sunday) will be at the Men's Fellowship to discuss the amazing work he has done in reconciliation and community building post-genocide Rwanda. John's work over these many years is remarkable, and I urge you to come meet him and engage in informal discussion about his approaches to reconciliation and community building.


---


Outdoor Holy Communion, July 18, 1:30 PM


| | | | | |
| --- | --- | --- | --- | --- |
| | | | FAITH FORMATION SCHEDULE | |
Saturday Night Compline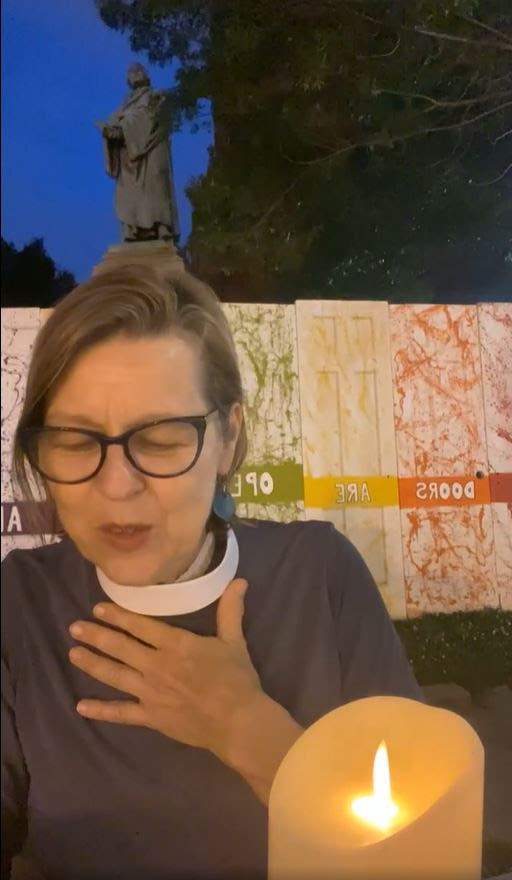 Join us for Saturday Night Compline OUTSIDE with Pastor Karen TOMORROW, July 10th at 9PM by the Martin Luther statue.
Adult Spiritual Formation
Join Pastor Karen and Justin Fitch for Bible Study as we continue to pay attention to how God's image is constructed. During the month of July,
Adult Spiritual Formation will begin at 9:15 am on Zoom to root deeper in this topic.
Contact
Justin
if you would like the Zoom link
Faith Formation Calendar
The
attached Pentecost calendar
contains resources to support your household's faith formation with recordings, scheduled offerings, and additional activity instructions. Look here to listen to upcoming Bedtime stories, Liturgy at Home, Saturday School, and Compline.
Saturday
School
Saturday School will be offered LIVE Friday morning at 9 am on Facebook live. Using our Gospel texts, grounding practices, commemoration, and the rhythm of an expanding framework for understanding antiracism within our faith formation, we journey deeper with each other and with God in our noticing practices
.
Check out last weekend's recording
here
.
Teen Meetups
For more information on biweekly teen gatherings, please email
youth@lutherplace.org
.
Pentecost Faith Formation Bags
If you haven't received your home faith formation bag to support your households spiritual education during the season of Pentecost, please email
Amanda
or
Pastor Karen
to discuss an alternate pickup or delivery time.
Liturgy at Home
Join Pastor Karen Friday afternoons on Facebook Live for Liturgy at Home
Stewardship
Stewardship meets on the second Wednesday of each month at 7 pm, and will resume on Wednesday, July 14th at 7 pm via Zoom. Bee Bedoya will provide consecutive Spanish interpretation, and Jennifer Lentfer and Amanda Lindamood will facilitate. July's dialogue will continue to examine facilitation, debriefs and leadership at Luther Place.

LP 2.0
LP 2.0 will resume at its regular time, the third Wednesday of the month at 7 pm on July 21st. This meeting will be facilitated by Council President, Ben Brown, as we continue to prepare for reopening, and implement shared building use guidelines.
| | | | | |
| --- | --- | --- | --- | --- |
| | | | OF INTEREST | |
Ward 2 Mutual Aid

Email

w2mutualaid@gmail.com

to get involved!

You can also view packing and delivery shifts here.





Ward 2 Mutual Aid provides outreach to nearby encampments of unhoused folks. Help them secure much needed supplies through their

Amazon Wish List

---





---


Support ArtSmart 2021



Do you have a Thrivent Action grant you are willing to activate for ArtSmart Summer Camp? We offer opportunities in purchasing a book for each child (40 children) and art supplies for multiple crafts. If you would like to participate, please reach out to Pastor Karen at

seniorpastor@lutherplace.org

---




Immigration advocacy groups including Faith in Action are urging all to call on their Congressional representatives to create a pathway to citizenship for millions of essential workers and their families, Dreamers, and TPS holders in the upcoming jobs and infrastructure reconciliation bill. Senator Sanders has tentatively agreed to add these important immigrant citizenship provisions to the Senate bill his committee is drafting. Further information and talking points can be found at this

link

. Contact Gary Maring for any questions.
Pastor Karen Brau

We offer our prayers

Prayers of gratitude for all who have served so faithfully in congregation council leadership.

We ask for God's help in addressing the collective grief that exits for over 603,000 people dead in this nation and 3.9 million around the world from COVID-19. Christ have mercy...

We celebrate all graduates!



Please email prayer requests for healing or other blessings to

eNews

@lutherplace.org.

Mission of the Moment

Movement Support


CLICK HERE

then select "Movement Support" to learn more about this ministry,



Send eNews submissions to
enews@lutherplace.org